Offering a gift basket to employees is a practice that is becoming more and more widespread these days. Some companies have already adopted this practice while others are still unaware of its benefits. Nowadays, there is a multitude of possibilities in terms of corporate gifts, which can make the choice difficult. Don't waste your time in time-consuming research. We have the perfect solution to make your team happy.
So what is a gift basket? Well, it's very simple. It's a basket made up of a selection of local products. You'll find a wide variety of sweet and savoury products in these baskets, often accompanied by an alcoholic or soft drink. These baskets are designed to appeal to all tastes and offer a unique taste experience.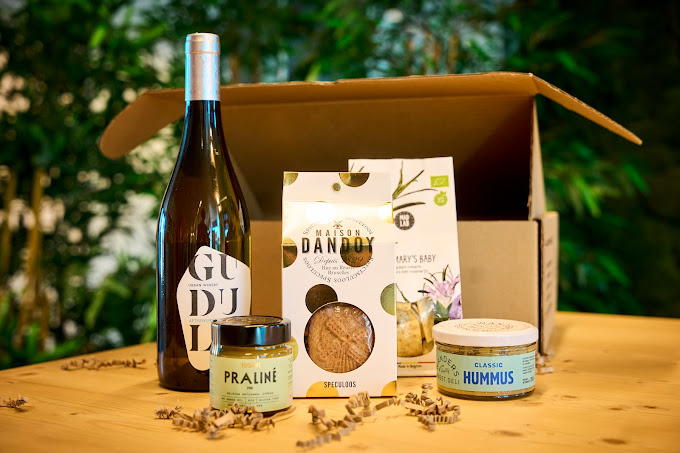 ​1. A gift basket to support Belgian producers
Offering a gift basket to your employees is much more than just giving them a gift. It is an opportunity to discover delicious Belgian products and to live a unique taste experience. You will be highlighting the small and passionate Belgian producers and their quality artisanal products. Moreover, you will promote the short circuit and local consumption which are major stakes of our current society.  
Support strong values by offering our gourmet baskets that will bring a local and engaged touch to your corporate gifts.
2. A fully customizable gift basket
Tastes and colors are not debatable. Everyone has their own preferences and that's perfectly normal. However, this can sometimes complicate things when it comes to choosing a gift that will please all your employees. That's why La Vitrine Locale has decided to make its offer fully customizable. Therefore, we obviously keep in mind that each individual is unique. Henceforth, you ​will be able to compose your gourmet box according to your tastes and needs, by choosing your favorite products from a wide range. Thus, make sure that all your employees can enjoy your gift a​nd appreciate it to the fullest.​
3. Strengthen business relationships and build customer loyalty
Offering a gourmet gift box is an effective and pleasant way to strengthen your professional relationships. In fact, your business partners will be delighted by this small thoughtful gesture, thus creating strong links in your business relationships. Moreover, you will contribute to the loyalty of your customers. Indeed, you will show them that you care about their satisfaction and will make them feel valued and appreciated. What's more, tasting these delicious Belgian specialties will leave a positive image of your company in their memory.
4. A gift basket for all budgets and all occasions
The option of the gift baskets offers an undeniable advantage, because it allows you to vary the number of products included in the hamper. You will therefore have access to a wide range of prices adapted to all budgets. Whether you opt for a more or less generous basket, you will inevitably find something to satisfy your expectations. Moreover, this option also stands out for its simplicity. It is suitable for all types of occasions: Christmas, birthdays, Easter, etc.
5. A gift basket as a thank you
Show your gratitude to your staff for their hard work throughout the year. What better way to show your appreciation for your team than with a gourmet basket? It is without a doubt an ideal way to motivate them and encourage them to keep going.
​Are you convinced by this option? You are probably wondering where to find a gift basketi ? Good news! It's very easy to get this type of product on the website of La Vitrine Locale​